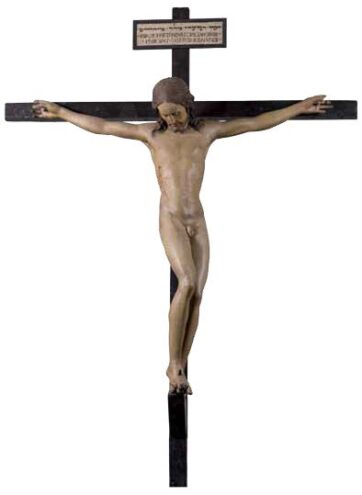 The Michelangelo of Santo Spirito, a crucifix to pray.
 Wooden polychrome sculpture [about 1493]
The Crucifix Michelangelo made as a gesture of gratitude to the Prior of Santo Spirito, to thank him for the hospitality and the opportunity to study anatomy, remained "hidden" for centuries in the sense that its traces were no longer known. Its existence was known only thanks to the source of Vasari. This source encouraged the scholar Margrit Lisner not to stop in her research. Thanks to her insistence and the welcome of the Augustinian Father Guido Balestri, we can speak of the rediscovered Christ of Michelangelo.
From 1962, the date of the discovery, to today, the Crucifix has lived a long history. After the restoration, it was brought to the Buonarroti house where it remained until 2000, the year in which the Augustinians, after many attempts, managed to bring it back to the Basilica Santo Spirito. However, by now it could no longer be placed in the original place, occupied by the altar by Caccini. The Barbadori chapel in the Sacristy by Giuliano da Sangallo was chosen to house the Crucifix.