The Conferences of Santo Spirito originate in the second half of the 300. The tradition was resumed in the '70s by Father Gino Ciolini, Prior of the Convent of Santo Spirito.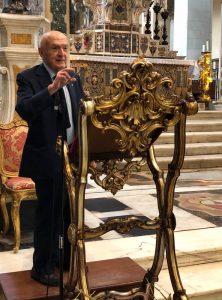 The Conferences of St. Spirit have their historical roots in those meetings coordinated by Friar Luigi Marsili, in the second half of the 14th century in which topics of profound cultural and philosophical relevance were addressed. These "conversations" distinguished personalities of the Florentine world, politicians, entrepreneurs, scholars of all knowledge participated, and it is also thanks to this initiative that Florence established itself to the whole world as the center of Humanism, a turning point in which new ideas were emerging in society.
More recently, at the end of the 1970s, the Prior of the Convent, an eminent scholar, Father Gino Ciolini, successfully relaunched the tradition of Marsili by establishing precisely "The Conferences of Santo Spirito" and publishing the proceedings in a precious series published by Augustinus/Città Nuova.
It's possible to financially support the realization of the Holy Spirit Conferences. Find out how